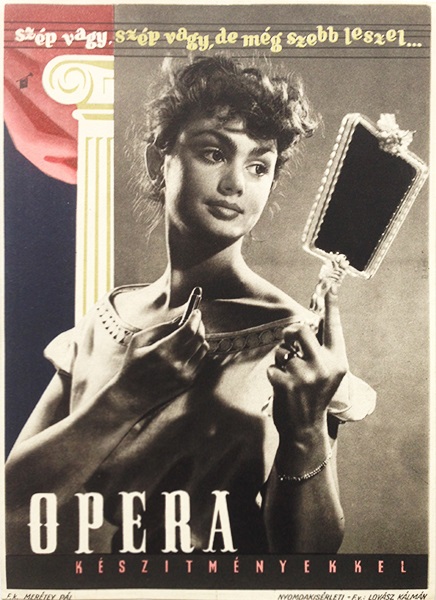 Opera cosmetics
Hungarian title:
Opera készítmények
Size:
Tram poster (cca. 24 x 17 cm)
Material:
Paper, offset lithography.
Price: US$240
Description:
Tram poster for Opera cosmetics. In the times of Socialism, factories were owned by the state and production was controlled by it. In the 1960s six companies responsible for the production of cosmetic goods existed. The Opera brand was a high quality brand - at least compared to the standards of the time -.produced by the company established in 1831 by József Hutter, the father of the famous Hutter soap. The same company - which today is called Caola-Alfa Ltd. - produced brands like Ovenall, Flóra, Schmoll, etc. Opera brand had various products such as lipstick or cologne.
On this poster a lady is apparent with the Opera lipstick in her hand. She is looking in the mirror. The text above her says 'you're beautiful, you're beautiful, but you're gonna be more beautiful...' which is an allusion to the tale, Snow White in which when the Queen looks in the magic mirror which never lies, the mirror tells her that: "My Queen, you are the fairest here so true. But Snow White is a thousand times more beautiful than you". The design was made with a mixed technique: photo and drawing at the background.