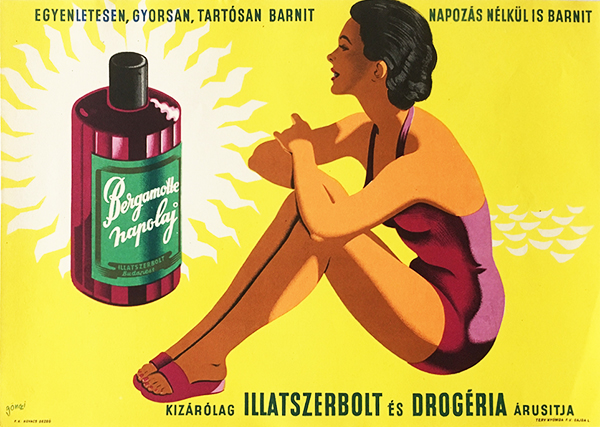 Bergamotte suntan oil
Hungarian title:
Bergamotte napolaj
Size:
Double Tram poster (cca. 24 x 34 cm)
Condition:
Fine, light creases.
Material:
Paper, offset lithography.
Price: US$400
Description:
Spectacular vintage Hungarian commercial advertising fashion poster for a suntan oil cosmetic product designed by Tibor Gönczi-Gebhardt, a very productive poster artist active from the 1920s until the 1980s. This work is from 1958 when, as a result of the 1956 revolution the political regime softened and at the same time the social norms became less strict than they were a few years before. That's the reason why a woman in a swimsuit could be portrayed on an advertisment unlike before when women had to be depicted in very conservative outfits. The portrayal of the female figure is impressive with the fine outlines and the soft transitions of shades used. The bright colour of the background is in contrast with the softer shades of the figure. The advertised product, the suntan oil can be seen on the left in a decorative bottle. The style of the packaging of the product and the fashion represented by the hair style of the lady and her swimsuit evoke the new fashion trends of the period when the poster was created.