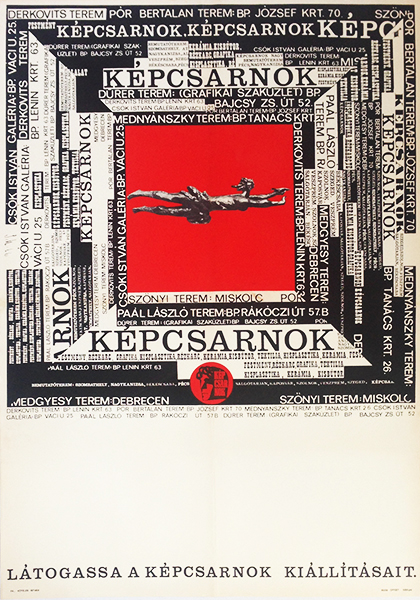 Kepcsarnok - Visit the exhibitions of Kepcsarnok
Hungarian title:
Képcsarnok - Látogassa a Képcsarnok kiállításait
Size:
A1 1 Sheet (cca. 59 x 84 cm)
Condition:
Fine, light fold marks and wear.
Material:
Paper, offset lithography.
Price: US$800
Description:
Kepcsarnok - Visit the exhibitions of Kepcsarnok is a 1966 contemporary art and commercial advertising poster designed by Matyas Sinka.
Poster to promote the Képcsarnok (Hall of Paintings) in Budapest. Kepcsarnok was the company dealing in contemporary fine and applied art during the socialist era in Hungary. The company was founded in 1948 when the shops selling art supplies and commercial galleries were nationalized. At the beginning, the Kepcsarnok consisted of a few art supply shops and some galleries and its main responsibility was art commerce. In 1954 Fine Art Foundation of the Hungarian People's Republic took the leadership of the Hall of Pictures and its scope of duty widened with products of applied arts. The main goal of the Kepcsarnok is to transfer the values carried in Hungarian visual art to as many people as possible.
The composition resembles a framed picture where the frame is built up by the names of the many galleries that belonged to the Hall of Pictures. The names are written in different typographical styles and this makes the image exciting, as well as the seemingly random alternation of black and white blocks. The contrast between the black and white 'frame' and the red picture is also a determining factor in the atmosphere of the composition. The logo of Kepcsarnok is in red as well, what balances the overall effect of the poster.