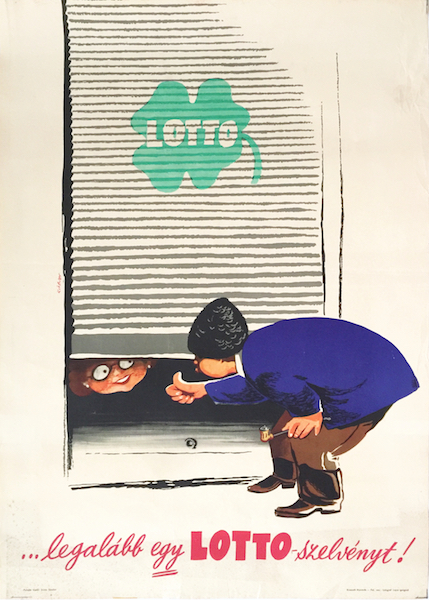 Please at least give me one lottery ticket!
Hungarian title:
...legalább egy Lottó szelvényt!
Size:
B2 (cca. 70 x 50 cm)
Condition:
Fine, horizontal fold mark, some creasing most notably at the upper right corner, discolouration at the bottom 10 cms of the poster
Material:
Paper, offset lithography.
Price: US$2000
Description:
...Just one lottery ticket, please! is a 1957 Hungarian commercial poster by Laszlo Kaldor.
Kaldor was known for his funny, charming and creative posters, for which he utilized his great sense of humor and his outstanding artistic skills. This poster is a famous and fine example.
His idea present on this composition was so popular, that it was used to promote other subjects as well. The design was introduced in 1945, promoting a Hungarian beer brand. This lottery poster was its second and most widely recognized use, what was also used during the 1960s.