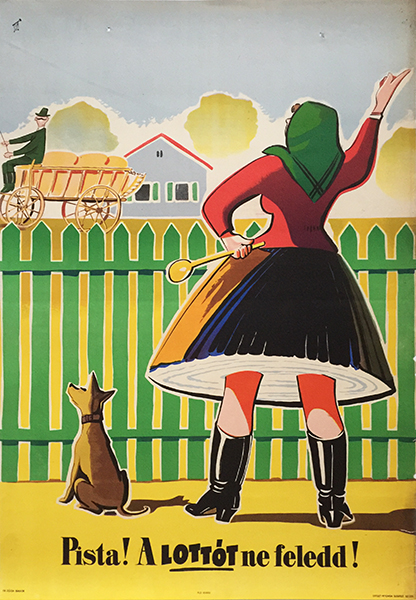 Pista! don't forget the lottery!
Hungarian title:
Pista! A lottót ne feledd!
Size:
B2 (cca. 70 x 50 cm)
Condition:
Fine, small tears & paper loss along the border.
Material:
Paper, offset lithography.
Price: US$2000
Description:
Original Hungarian vintage commercial poster from 1960 by László Káldor.
The author of this poster was a poster artist and caricaturist, hence the majority of his posters were humorous and had a dynamic drawing style. On this one he depicted a typical moment in a village: the husband goes to work on his wagon. He has the characteristics of the Hungarian country man: big moustache, wearing a hat and boots. His wife is staying at home and she is holding a wooden spoon what implies that she is preparing lunch while her husband is away. She is also wearing the traditional clothing of village women: multy layered skirt, kerchief and boots. Next to her is a dog, as having a dog is almost a must in every household in the villages. The wife reminds her husband to buy lottery tickets. The composition cleverly transfers the message: lottery is popular in every part of the country.