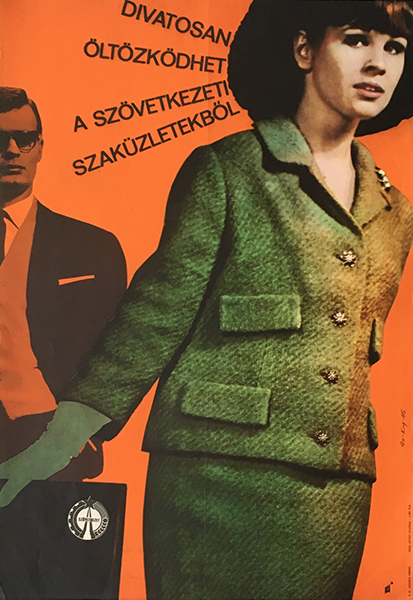 Dress fashionably
Hungarian title:
Divatosan öltözködhet a szövetkezeti szaküzletekből
Size:
A2 1/2 Sheet (cca. 42 x 59 cm)
Condition:
Fine, light wear.
Material:
Paper, offset lithography.
Price: US$400
Description:
Dress fashionably is a vintage Hungarian commercial fashion poster from the 1965 that promotes the cooperative stores.
The design is very lively and it reflects the trends of the 1960s both in clothing and in graphic design. The text says that 'You can get fashionable outfits from the cooperative's'. In the socialist times posters often didn't promote brands, as in socialist economy without free competition brands didn't exist. Therefore, stores were advertised, posters told people where to buy shoes, clothes, electric devices, etc..