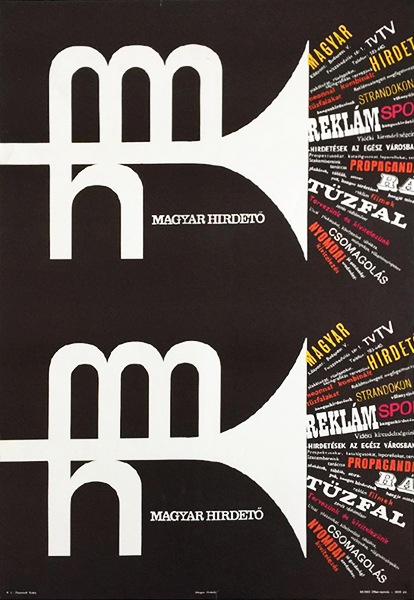 Hungarian Advertising Company
Hungarian title:
Magyar Hirdető
Size:
A1 1 Sheet (cca. 84 x 59 cm)
Condition:
Fine, light fold marks and wear, small tears.
Material:
Paper, offset lithography.
Price: US$700
Description:
Hungarian Advertising Company is a 1968 typographical poster designed by Gabor Papp. Hungarian Advertising Company was a state owned company, which was responsible for most advertising activity in the country.
The story of the Hungarian Advertiser started in 1909 when the Budapest municipality decided that the right to place advertisements in public areas should belong to the Advertising Company. The reason was said to be that placing advertisements on the streets had a lot to do with the aesthetics of the city, thus the municipality was more competent in decision making related to posters, than private companies. In 1911 there were 195 advertising pillars throughout Budapest and by the beginning of World War II (1939) this number rose significantly whilst boards and placards also appeared. At the beginning of the Socialist era in 1949 the planned economy committee decided to establish an organization which didn't only cover Budapest but the whole country. The State Owned Advertising Company was born and was responsible for placing mostly political posters in 120 locations in Hungary. The company was named MAHIR in 1956 when it started to deal with advertisement design and research, realization of certain advertising tools such as posters as well as the broadcasting of advertisements. Its scope of duty involved exhibition planning, making of gift cards, etc....It had 19 directories and local offices in different counties. By the 1980s numerous foreign PR companies appeared thus MAHIR started to lose territory on the Hungarian advertising market. The situation worsened after 1989, the change of the system. Today MAHIR is still existing but is owned by a private company.
The poster shows MAHIR's logo. The clever logo is a stylized image of a hand holding a trumpet, where the trumpet is the symbol of advertising. At the same time the image contains the letters 'm' and 'h' for Magyar Hirdető. The words coming out from the trumpet are all related to MAHIR (e.g. Hungarian, advertisement, sport, television, packaging, printing).