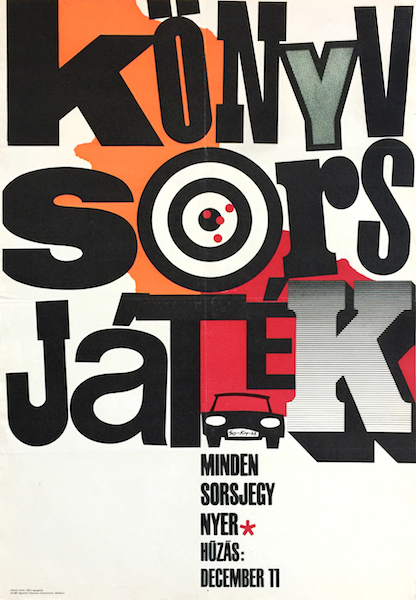 Book Raffle - Every ticket wins - Draw 11th December
Hungarian title:
Könyvsorsjáték - Minden sorsjegy nyer - Húzás: december 11.
Size:
A1 1 Sheet (cca. 84 x 59 cm)
Condition:
Fine, light fold marks and wear.
Material:
Paper, offset lithography.
Price: US$800
Description:
Book Raffle - Every ticket wins is a 1966 vintage Hungarian mid-century modern advertising poster designed by So-Ky.
Exciting commercial poster from the 1960s. It is a playful typographic poster created by the artist couple So-Ky (László Sós and Éva Kemény). They were very productive, and received many commissions. They designed propaganda, commercial and movie posters as well. So-Ky received several orders from the biggest companies: shopping centers, shoe fabrics, rubber factories, and many others. They preferred to construct compositions using the contrasting effect of black-and-white, or to use dominant, contrasting colors.
This poster is a fine example of their art. They employed a fine typographic design which reveals their ability to create logos and other concentrated commercial symbols. Even though they put basically text into the poster, they could manage to create a varied design with exciting shapes and attractive patterns. Their design reflects the tendencies of the popular culture of the period, such as Pop art and Op art.