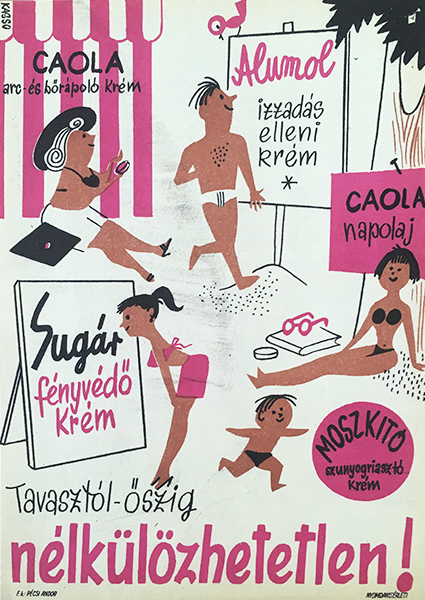 Caola - A must have from spring till autumn
Hungarian title:
Caola - Tavasztól őszig nélkülözhetetlen
Size:
Tram poster (cca. 17 x 24 cm)
Condition:
Fine, light staining.
Material:
Paper, offset lithography.
Price: US$320
Description:
The tram poster advertises Caola cosmetics. In 1961 the state owned cosmetic factory, that incorporated numerous traditional smaller factories, was established. The giant company produced soap and cosmetic products. Brands for example Caola or Elida were manufactured here,
The cartoon-like fun design incorporates numerous products of the brand in one image that captured a happy moment on the beach: anti-mosquito lotion, sunscreen, deodorant, UV cream, face- and skin lotion. Each product appears next to a character who is associated with that certain good. The author of the design was a famous caricaturist and graphic designer He worked for famous magazines like Vasárnapi Újság (~Sunday Magazine, the most influential illustrated newspaper of the time) and for political-satirical newspapers, like Ludas Matyi. He was a pioneer of Hungarian animation film making, alongside with Gyula Macskássy and John Halas. He was known by his very humorous attitude. Vivid colors, funny characters and humorous scenes characterize his designs .