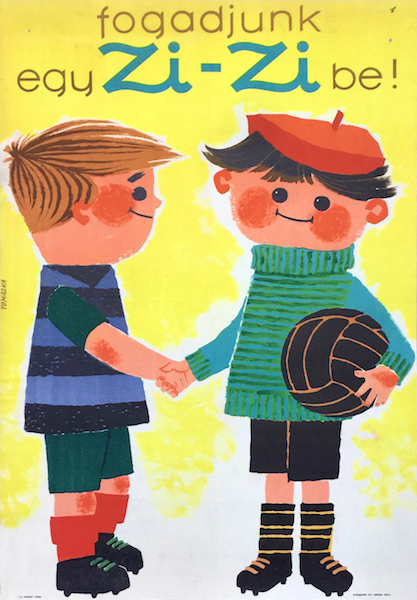 Let's bet in a Zi-Zi! - Fruit flavoured sugar coated puffed rice candy
Hungarian title:
Fogadjunk egy Zi-Zi be! - Gyümölcs ízesítésű cukrozott bevonatú puffasztott rizs cukorka
Size:
A1 1 Sheet (cca. 84 x 59 cm)
Condition:
Fine, light fold marks and wear, small tears and tiny paper loss along the borders.
Material:
Paper, offset lithography.
Price: US$3200
Description:
Charming poster for a Hungarian sweets, called "Zi-Zi", which was very popular in the Socialist era. The design was created by Irén Tomaska, in 1960.
Zi-zi was a fruit flavored, swelled rice candy with a colourful, sugary coating - very artificial and unhealthy, yet the children of the 1960's loved it. It got its name after the sound it has when someone chews it, as children usually ate a palm amount of it all at once. It is a true retrograde type of sweets, although it is still available today in Hungary.
As all the other commercial posters for sweets, this one for Zi-Zi also aimed to target the potential consumers: children. That's why the poster employed a really lovely composition, close to the style of children's drawings. The artist often worked on book illustrations, mainly for children's books and course books, so she was familiar with this portrayal. This design depicts two figures, little boys with cute smiles, little round-shaped black eyes and red cheeks. They are depicted to be shaking hands, while the text says: "Let's bet in a Zi-Zi!"
This poster is one of the series which was created for Zi-Zi by the artist. With her 1958 design for the candy, she won the prize for the best commercial poster in the year. This poster from 1960 is also a fine example of Tomaska's poster art which represented a playful and humorous tendency in the Hungarian poster design of the 1950s and the 1960s.