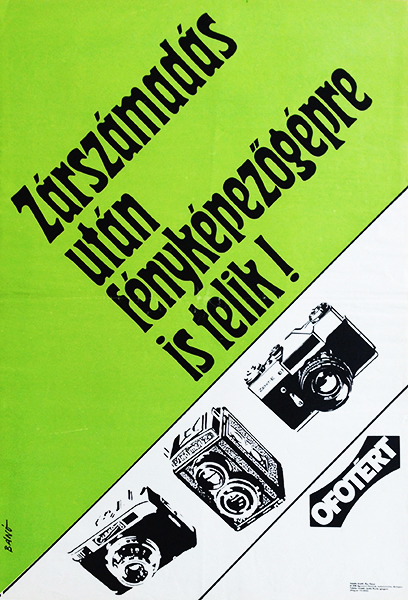 Ofotért photo supplies
Hungarian title:
Ofotért - Zárszámadás után fényképezőgépre is telik!
Size:
A1 1 Sheet (cca. 59 x 84 cm)
Condition:
Fine, light fold marks and wear.
Material:
Paper, intaglio.
Price: US$320
Description:
After the closing accounts you can afford a camera! The poster advertises Ofotért, a store chain which sold photo supplies.
The poster is interestingly constructed: the whole composition is diagonal and half of the picture is occupied by the text. Below it the burnt photos of the cameras are displayed and lastly the logo of the store chain: Ofotért. Ofotért is still existing today and it offers optometry services. However, the company has a long history. The Chamber of Comerce and Industry was shut down in 1948 and a year later the optitian profession was also nationalized. Most of the people who lost their jobs, found new positions in Ofotért, based in 1949. The nationalized shops moved in to the former private shops of opticians and photographers. This might be the reason why Ofotért also offered photo developing in the 1960s.
The designer of this poster, Endre Bánó, was mostly making commercial posters and he was the designer of Népszabadság, a leftist Hungarian Journal. He designed other posters for Ofotért as well, for example this one.