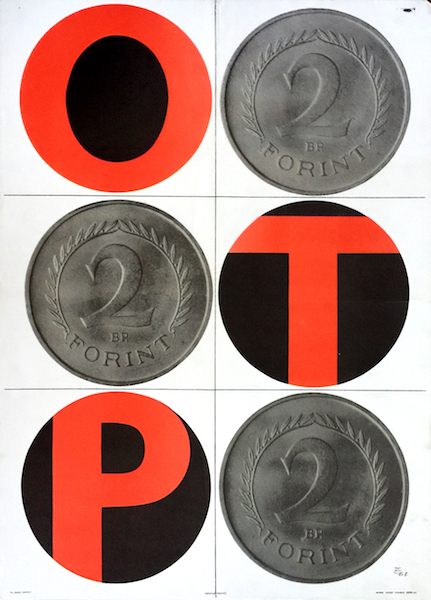 OTP National Savings Bank - 2 Forint coin
Hungarian title:
OTP Bank - 2 forintos
Size:
B2 (cca. 70 x 50 cm)
Condition:
Fine, light fold marks and wear.
Material:
Paper, offset lithography.
Price: US$1600
Description:
Simple but decorative poster for the National Savings Bank of Hungary, created by Crescencia Zelenák.
Zelenák is a graphic designer who was productive from the 1950s. In the 1960s she created several cultural and movie posters. She also often designed posters for national programmes, such as the Day of Poetry. She employed many different styles and techniques with success. Strong outlines and compact shapes are characteristics of her works as well. Mostly drawn compositions were created by her, but she also used paper cut-out or montage techniques. Besides movie posters she worked regularly on exhibition designs. She also designed emblems, logos, book covers and stamps.
The composition is concentrated, the whole image is split into six units and every unit contains a round-shaped image. In the left and right rounds different images are depicted: red letters of "OTP" (which is the name of the bank advertised here) are combined with images about the 2 forint coins. This method contributes to a more varied and playful design.