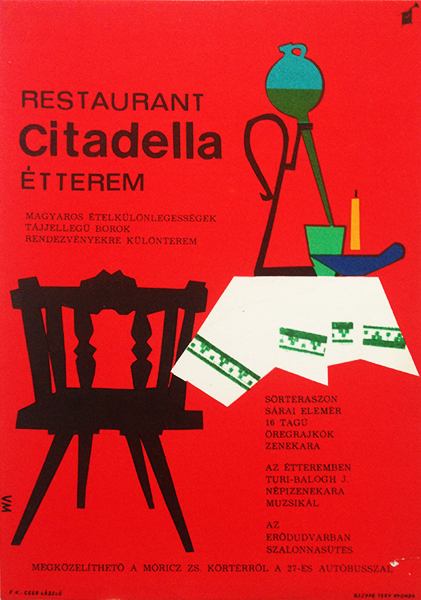 Citadel restaurant
Hungarian title:
Citadella étterem
Size:
Tram poster (cca. 17 x 24 cm)
Condition:
Fine, one tear at the bottom right border.
Price: US$240
Description:
Citadel is a vintage Hungarian movie poster from the 1960s designed by Magda Vörösmarty.
The poster advertises the Citadel restaurant, a restaurant located at one of the most popular touristic sights of Budapest. The location is at Gellért-hegy and it is famous for having a spectacular view to the city and the Danube. The main asset of the restaurant was the view but interestingly the designer chose a different way to promote it. Below the name of the restaurant the text says that they offer Hungarian dishes and wine selection from the country side. The restaurant was also available for events. The size of the venue gave possibility to have three different programs in three different sections of it. These programs are also listed.
The composition itself is very unique and typical of the designner, Magda Vörösmarty. She graduated in 1959 and has been designing posters ever since. In the 1960s she used paper cut-out technique with which she created decorative flat-like designs. This composition consists of a chair and the stylized picture of a table with a table-cloth, with wine and a candle on it. It is very attractive and unique thanks to the flat-like design.